The following story has been provided to us by Eleesha's family and has been included exactly as received.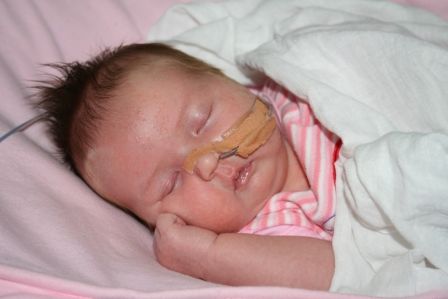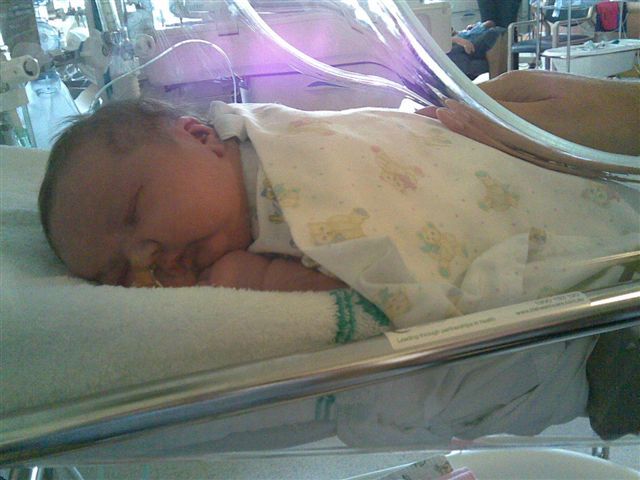 It started with my baby being whisked away with breathing problems. Your child has a cleft palate. Did you know? Did it show on the ultra sound? Then as you all know comes the shock.
Eventually I get to see my baby who is in a humidi crib being nursed prone.
But, being a nine and a half pound baby it, in hindsight was a little comical the way she filled the humidi crib. They got her out of it pretty quick the next day.
Still being nursed prone, how am I supposed to get this baby home? The baby capsule is not made to carry a prone baby? Luckily I didn't have to find out as she was doing ok on her back in a few days. Picking up your baby with leads hanging off it is not really something I expected to experience, but the leads got fewer as the days passed.
Now you have to learn how to feed with a special bottle, not comforting when the speech therapists didn't seem that familiar with the bottle and the nurses weren't shown which way to do the valve either. Learning how hard to squeeze a bottle for a new baby is quite frightening to start with. We started with a pigeon bottle so we went and bought more (not knowing there was any thing else) only to be introduced to a new bottle the Haberman/ Special needs which we adapted to better.
Along side learning the new bottle was learning to use and care for an NG tube which I wasn't keen on but after a week in hospital I got keen to learn as it was the ticket out of there. Also I was trying to express but that is another story. We had the NG tube for 3 months which I thought was a long time until we read that some can keep tube until 18 months and more.
We went home with a discharge letter saying Pierre Robin, these words were never mentioned in hospital. Then I get a phone call saying a new discharge letter is coming it is not Pierre Robin, as if we aren't confused enough.
Then eventually they decided it is Pierre Robin.
Then there was that wait for the surgery and the dreaded arm splints. The first surgery was at 9 months old. Then due to it being such a broad cleft palate, it didn't hold so there was more surgery at 13 months. There is still a hole/fistula but Eleesha can suck through a straw now, so the hole will not be fixed unless it affects her speech. She seems to be coming along well with her speech but doesn't say Dad clearly so it is wait and see.
Eleeshas early photos are all cheeks and no chin the photo of Eleesha in pink (top) is after the swelling has gone down.
Then there is a recent photo of Eleesha (right) is now 21 months and is doing fine she coped with the surgery and arm splints way better than us.
Angie Dowell